Don's story of determination and support
Don Goldschmidt is 88, and has been a longtime member of the YMCA. Gilly Voss, part of the GoldFit team from YMCA Auckland City, shared a video of a meaningful celebration as he took some of his first unaided steps after a series of strokes. Don has worked hard to regain mobility and confidence with the GoldFit programme. Read the moving story behind the video.
A lifetime of physical strength and courage
Don has been a longtime member of the YMCA. His working life as a surveyor allowed him to reach incredible physical feats, including Antarctic exploration 'No GPS in those days, so all mapping and navigation was done by stars' and playing a key role in one of Auckland's most iconic structures – being one of two surveyors measuring the Harbour Bridge for the widening in 1957. The Japanese construction firm wanted each extension to have an accuracy of plus or minus no more than 3 mms. They were going to be shipped from Japan and they had to fit perfectly between the concrete caissons.
With a career this groundbreaking, it's no surprise that Don worked until age 70, before retiring and spending more time with his wife of 61 years, three children, and eight grandchildren.
After work keep-fit
Don's journey with the Y began in the late 1970s when he and a colleague heard about the gym on Pitt St, which ran after-work sessions for businessmen. These sessions were rigorous – straight into a 3-minute cardio on arrival – no dawdling between machines, with a trainer at a table taking everyone through their programmes. Friday evening aerobic sessions took everyone through a clockwise rotation – changing machines on the instructor's call. Don stayed a member until a move to a lifestyle block in Mangawhai.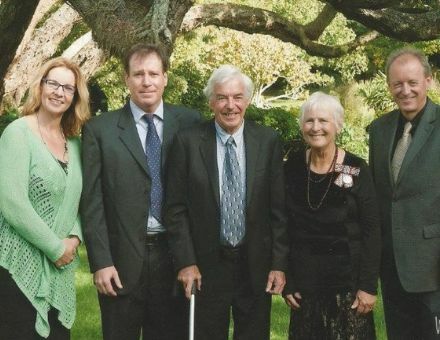 A new chapter
Unfortunately, ill-health brought Don back to the Y. A series of strokes prompted a move back to Auckland City, where Don became part of our GoldFit programme 'A vast change from earlier days. With the introduction of women, the whole place had a vast improvement.'
Don picks up the story 'The result of my strokes meant my balance was severely compromised and I had to use a stick at all times. For the last two years, a walking frame has been imperative. Gilly and Caty have been invaluable in helping to get my confidence back, and I can now take a few steps without support. With their continued encouragement and expertise, I plan to walk without any aid shortly.'
Don's advice to others
It means the world to us that we can support Don to regain his mobility and literally stand alongside him through every step. He tells us that the advice he was given when he first joined the YMCA almost 5 years ago still holds true today:
'Come once a week, it's better than not coming at all.
Come twice a week and your level of fitness will stay the same.
Come three times a week and your fitness will improve.
I guess that's true today. Just come as often as you can, make the times enjoyable, befriend and encourage the others around you to make the whole experience memorable.'
Click here to see Don's moving celebration video