The Outward Bound (OB) course is all about discovering your full potential through challenge and adventure in the outdoors. Based in the Marlborough Sounds, OB has been providing courses for New Zealanders since 1962. Every year, the YMCA partnership scheme makes scholarships available for our employees to enable them to take this opportunity.
This year Claudia Fraser, an outdoor instructor from YMCA Camp Adair shares her time at the Outward Bound, as she calls this- a once in a lifetime experience!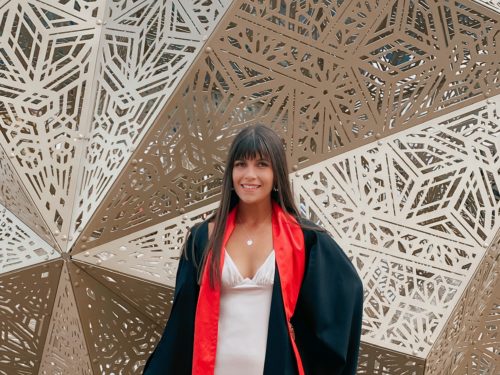 What encouraged you to take up this course?
The goal I hoped to achieve attending Outward Bound was to get out of my comfort zone and see how far I could push myself, physically and mentally. I hoped the experience would give me the opportunity to work with a variety of people in different environments and situations. Being an outdoors instructor at YMCA Camp Adair, I am extremely passionate about the outdoors and believed that having this opportunity would help me develop skills I could bring back to my day to day life and pass on to clients and colleagues what I have learnt through this course.
How was the experience?
Before the experience, I didn't know what I was getting myself into. In this 21 day course, we were divided into groups of 12, aged from 18-26. The course truly pushed my limits by throwing different activities and challenges each day. Activities like rock climbing, bush tramping, map + orienteering, white water kayaking, high ropes and sailing. I was confident with high ropes, and rock climbing as I had experienced them before and it's something I really enjoy. I had no previous experience in white water kayaking at all. In the beginning, I was really scared as there was a time where we had to make an emergency exit from the kayak. Even looking around and seeing my peers do it – I knew I was still going to chicken out. Thankfully, with some encouragement from my lovely peers and instructors, I got past and conquered my fear.
This course not only taught me how to work in big groups with a variety of personality traits but also trusting others and above all trusting myself with having confidence in giving everything a go.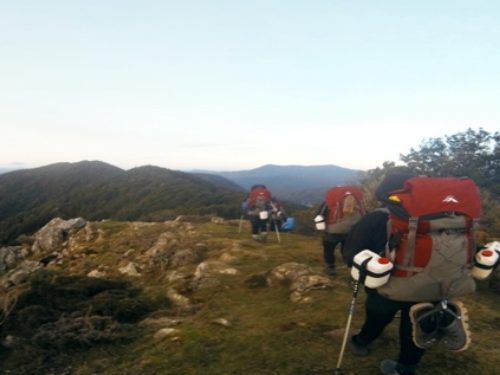 Outward Bound wasn't always about just outdoor activities; it was also about our personal growth physically and mentally. Waking up every day at early dawn hours and then following a fitness routine that included a 3.2k run and finishing off with an ice-cold swim in the Anakiwa bay. Every day I was growing confident by pushing myself and building self-motivation.
What was most challenging?
One challenging time for me was when halfway through the course, we were sent on our 3-day solo experience in the bush. By sunset, I was dropped off at the camp spot where I had to build my own shelter for the night by only using the materials around me. During the day I would relax under the sun and journal to reflect on my experience. I would prepare meals with the limited, not so exciting, rations given to me. If I wanted to move around, I was only allowed to spread around 20 paces from my designated spot where my area was a mixture of scrap - gorse however on the positive side, I did have a lovely view of the stream.
The most challenging part was on the third day when my instructor told me that I needed to pack my belonging due to extremely bad weather conditions expected and that it wouldn't be safe to be out camping in the bush. Even though we were transported to a new campsite to continue our solo for the final night, we were still hit by torrential rain and gale-force winds that night. This was super challenging for me as it resulted in my tent collapsing. I knew I would survive though, as the days spent at the course had mentally prepared me for this.

What learnings did you bring back home?
It felt like taking a break from TV, social media, a cell phone and Wifi for a while, was really good for my mental health. I learnt how to focus on developing my human interactions.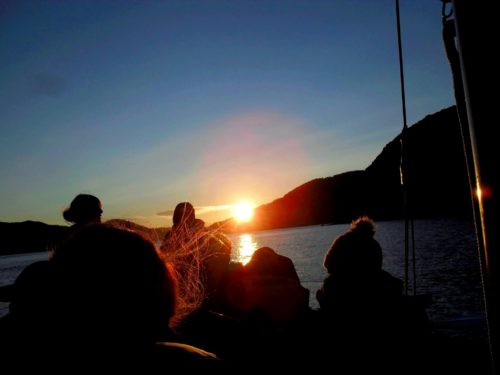 Being challenged in the outdoors, people are learning new skills and strengths without even realising that this can be transferred into their daily lives. When the noise of society is taken away it becomes clear that these simple things are most important in life.
My message for anyone wanting to experience Outward Bound
Outward Bound has been my safe place where I have learnt to be a better person in stressful times and also live in the present.
You have to be ready to get out of your comfort zone and be spontaneous for e.g. not knowing what is planned ahead and being told an hour before about an activity you have to perform - you just have to be ready for anything. Every challenge is a surprise and some experiences could be completely new. You have to remain fully present in the moment and not worry about the future. Most importantly, believe in yourself.
Overall this course is a wonderful experience. I have gained a lot of new skills in a short period of time and now I know I am capable of achieving anything I put my mind to. Something I repeat to myself now, whenever I face new challenges in life is that there is always going to be a light at the end of the tunnel.
I would definitely recommend the Outward Bound course to everyone who is wanting to push their limits and conquer fears. It was undoubtedly the most remarkable experience of my life!
- Claudia Fraser, Outdoor instructor, YMCA Camp Adair