New technology widening fitness opportunities at The Y Lagoon
Generous funding support from the Lion Foundation has enabled a new piece of technology to arrive at The Y Lagoon, and; just like the outdoor pool outside, it's already making waves.
The multiwall puts the fun into fitness - with a range of games and activities on offer providing opportunities for cardio fitness, hand-eye co-ordination, as well as a bit of healthy competition.
However it is seeing participation from even more people than originally planned. The Y Lagoon Centre Manager, Wil-Riaan Engelbrecht, explains.
"Unfortunately, when school swimming groups come in, not all of the children take part in the swimming. We saw that children who had previously sat on the sidelines were able to use the wall, running around and having a great time. They were the last ones on the bus back to school!"
The multiwall will be available for use in children's birthday parties, and proved a hit with a recent guest.
Gabi Hofer, mother of Suzanah, 8, a wheelchair user, shares the story about their recent party visit. "We didn't think she could participate, but with the help of a pool noodle, she could connect with the screen".
Suzanah enjoyed her interaction with the screen, as she likes the ability to get feedback, and buttons and noises. "She likes anything that levels the playing field".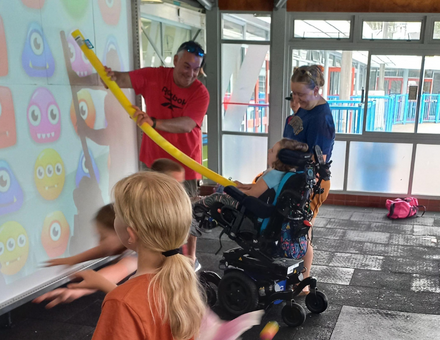 The wall will be available in a range of options available at The Y Lagoon Pool this summer: