Are you ready to push your limits and discover your full potential? Look no further than the exciting partnership between The Y and Outward Bound in New Zealand. This unique collaboration provides scholarships for The Y employees to attend the renowned Outward Bound courses, where challenge and adventure await in the great outdoors.
Nestled in the stunning Marlborough Sounds, Outward Bound has been providing life-changing courses for New Zealanders since 1962. Through a series of physical and mental challenges, participants are encouraged to step outside their comfort zones and discover their true potential. From kayaking and rock climbing to team building and leadership exercises, the Outward Bound course is designed to help you grow in every way.
Thanks to the 11-year partnership between The Y and Outward Bound, twice a year a select group of lucky Y employees are given the opportunity to attend this once-in-a-lifetime experience. The scholarships provided by this partnership enable these individuals to push their limits, stretch their abilities, grow physically and mentally, and return to their work at The Y with renewed energy and purpose. These scholarships are a way for us to support our people and give them an opportunity to grow and develop as individuals in a way that will help them with their work and lives.
We share the same vision with Outward Bound for The Y staff who attend the courses: developing transferable skills and attitudes that remain far beyond a participant's time at Anakiwa. Lessons learnt are applicable to work, study, home - and they last for life.
Outward Bound is not a destination it's a journey. Like every rewarding journey it's full of challenges. The experience of trying new things and being challenged builds confidence, resilience and helps develop new skills and behaviour. Camp Adair instructor Claudia Fraser agrees; "Outward Bound wasn't always about just outdoor activities; it was also about our personal growth physically and mentally." Outdoor education is so powerful in part because the lessons are sometimes so subtle that we don't feel like they are being forced to learn stuff. It's about the soft skills, the human interactions. By being challenged in the outdoors, without even realising it people are learning skills and strengths that can be transferred into their 'real' lives.
"Being with nature was both humbling yet exciting; the intensity of the experience was further heightened simply by being around beautiful and diverse individuals and forming new relationships while growing and learning from each other. I was really excited about going. I kind of knew it was an opportunity for me to take some pretty big steps forward in my own life – maybe even to come home with a whole new perspective on who I am and where I'm heading with my life."
Alice Loretto, a customer care specialist at The Y Cameron Pools, has just recently returned from her thrilling adventure. Completing the classic course in the middle of Winter posed some extra challenges, "spending the night in the bush, we stayed in a tarp, so it was absolutely freezing as we slept."
Every morning of the adventure required a vigorous start to the day with aerobics, a run, and a swim in the ocean. "All before 7 am". Claudia Fraser, an outdoor educator at Camp Adair recounts "the course truly pushed my limits by throwing different activities and challenges each day. Activities like rock climbing, bush tramping, map + orienteering, white water kayaking, high ropes, and sailing -a once in a lifetime experience!"
These activities are not only employed to challenge participants physically and get them out of their comfort zones, but also to give them a chance to learn who they really are. While undergoing stress, challenge and exertion participants are given the chance to truly shine. The school encourages the idea that vulnerability shows true strength and mana, taking the risk to be uncomfortable and putting yourself out there in front of others invites others to do the same.
Kaitiakitanga is another value which is cherished and preached at Outward Bound. Being the Kaitiaki of nature, people or values is an extremely rewarding thing to do. Participants are given the chance to show this through the community service part of the courses. For Y staff, who work for a not-for-profit and embrace the values of growing and supporting our communities, this truly resonates. Engaging in social good for your community is a key aspect of the Outward Bound kaupapa – Āwina mai, Āwina atu - to give and receive service, and a key value for The Y – which aims to build strong kids, families, and communities.
For Claudia she hoped "to get out of my comfort zone and see how far I could push myself, physically and mentally. I hoped the experience would give me the opportunity to work with a variety of people in different environments and situations. Being an outdoors instructor at The Y Camp Adair, I am extremely passionate about the outdoors and believed that having this opportunity would help me develop skills I could bring back to my day-to-day life and pass on to clients and colleagues what I have learnt through this course. I learnt how to focus on developing my human interactions. Being challenged in the outdoors, people are learning new skills and strengths without even realising that this can be transferred into their daily lives. When the noise of society is taken away it becomes clear that these simple things are most important in life."
Everyone who goes on Outward Bound undergoes their own unique experience, and Alice was no different. So, what did Alice discover at Outward Bound? "Now I understand more about myself and my personal values. I think that will be a huge influence on what I do and where I go with my life going into the future." Achieving more than what she thought she was capable of, Outward Bound was an opportunity to push herself into a new territory of resilience, stretch herself to new heights, drive herself above old horizons and find new pinnacles of achievement and success. "The course I did was tough, we were running at 110% for 21 days, and it was a challenge, but I would recommend OB to everyone, it's really amazing to see how far you can push yourself. You'll definitely surprise yourself."
For Gilly, Targeted Health Specialist, who completed the eight-day Aspire course in 2019, Outward Bound gave her a new lease on life. "It changed my whole mind-set and how I view challenges. I'm so much better for that experience," she says. Since Outward Bound, Gilly is a new person – mentally and emotionally. "Challenges don't phase me. I say, yes, to pretty much everything," she says. She's now renowned for her competitiveness in major fitness challenges like the Sea Series. Her resilience and leadership skills she developed further at OB were showcased in her enormous efforts with the GoldFit community over lock down. "Gilly is the catalyst who welds us all together." "Gilly who took a personal interest in every single one of us and made sure we were exercising to our ability."
Overall, for many participants, Outward Bound is an intensely powerful, unique, and enjoyable experience. Many hidden benefits hide among the obvious ones. Alice found the release from the ubiquitous technological world a release; "there are so many things that I would consider a personal highlight from this course; a few things are like being without a phone for 21 days and actually really enjoying it and running a half marathon that I'd never thought I would do."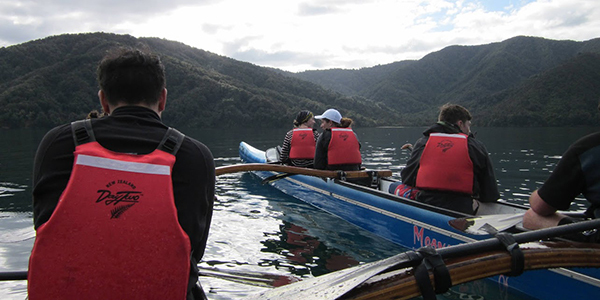 The famous founder of Outward Bound, Kurt Hahn, sums up the biggest lesson all our staff members learnt: "there is more in you". Hahn wanted the course to encourage enterprise and curiosity, to instil a positive and enthusiastic attitude to life, to inspire determination, and to teach participants to recognise that there are times when it is more important to put the interests of others ahead of their own, and to value compassion and service to others. This optimism and resilient mind training is made evident in one of Alice's experiences while aboard a cutter sailing in the Sounds on her journey; "One of the things that has really stuck in my mind was our sailing/rowing scheme. It was our last day of 3 and we had to get from School House Bay in the outer sounds back to Outward Bound in Anakiwa. There was reasonable wind for sailing at the start of the morning, but it dropped quickly, and we spent the next 7 hours or so rowing back. We were pretty exhausted, the weather was rainy, and we were wet, cold and miserable. Our instructors came alongside us in their boat with a motor and said to us, "Look, you can either be wet, cold and miserable, or you can be wet and cold. The choice is up to you."
Claudia has some advice for anyone keen to be involved, "you just have to be ready for anything. Every challenge is a surprise, and some experiences could be completely new. You have to remain fully present in the moment and not worry about the future. Most importantly, believe in yourself."
Alice's advice has a more practical lean, "my advice for those hoping to go to OB is to live in the moment while you are there and not think about what's happening when you get back home. Also, pack a silly number of socks and underwear (quick-dry!!!) because you just cannot have too many while you're on course."
So, if you're ready to embark on a journey of self-discovery, why not consider applying for a scholarship through The Y and Outward Bound partnership? With challenge, adventure, and growth waiting for you, there's never been a better time to discover your full potential.