Lexi Tetenburg
Recreation Assistant, OSCAR Coordinator and Centre Marketing Representative
Mt Albert Community and Leisure Centre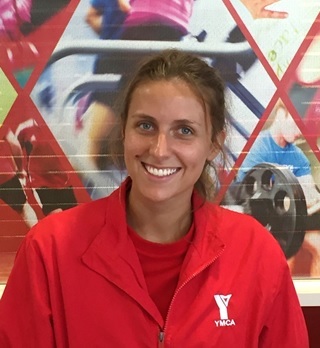 1. How long have you been working with the YMCA Mt Albert family?
Almost 1 year now, it has just flown by! I don't feel like the new girl anymore. I feel like part of the team and part of the fam.
2. What led you to working with the YMCA Mt Albert family?
I love working with kids, teaching them new skills and building their confidence. I have a cheerleading and gymnastics background, so this role really went hand in hand with what I know and what I love.
3. How do you keep motivated?
I try to get a good sleep, exercise, drink lots of water. Once I am on a roll, I will stay on it forever.
4. What is your go-to in the gym?
In terms of gymnastics, I want YMCA to be the first choice for kids gymnastics in Auckland, or even the country. I enjoy developing and changing up the programme to see what works and what the kids and parents enjoy.
In terms of my OSCAR role, it's always fun to be called a child's favourite leader, so I would like to strive for that title, haha!
As the Centre Marketing Representative, I would like to continue progressing and learning about marketing within our centre and the YMCA as a brand.
5. Why do you think health and fitness is important?
I believe kids become more confident as people through sport, exercise and the social side that comes with recreation classes. I think it is important to find a passion that is outside of the classroom, as it builds new friendships and develops new skills.
6. What is one thing we didn't know about you that will surprise us?
I was an All Star Cheerleader for 10 years, and it still is one of my biggest passions. I remember one of my very first classes was run right here at YMCA Mt Albert!
I also attended the YMCA Mt Albert Holiday Programme when I was younger, so now, to be a leader and coordinator of that very same programme is incredible.
7. How would your friends and family describe you?
Organized, witty, friendly
8. What changes have you seen in yourself since joining the YMCA family?
The Y has taught me that I can be anything, and do anything that I set my mind to. The Mt Albert staff team have had such faith in me with structuring and running the gymnastics programme, coordinating holiday programme days, and selecting me as the Centre Marketing Rep. I would have never thought I could achieve what I have, and I can't wait to see what is to come.
9. What would you like to say to potential members of the YMCA family?
The Y has something for everyone! Everyone is part of our family. It is a more than my workplace.
10. Why the Y?
The Y is a home, a community and we would love for you, your family and friends to be a part of it.