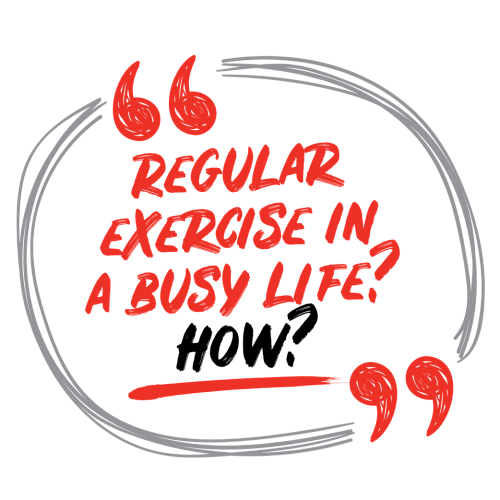 As January creeps on, holiday gives way to hectic. You've started the year full of good intentions – how do you stay committed when life gets in the way?
One: Fit in around your life
Think about your weekly routine. Slipping exercise in alongside your current commitments will make it easier to maintain – getting off the bus earlier to get a longer walk, doing a class in your lunch break, or seeing a mate for a jog rather than a drink. Possibly bicep workouts or squats during meetings is taking it a bit far – but once those good habits are formed; you'll want to keep it up.
Two: Do something you look forward to
Sustained habits aren't formed from chores you don't enjoy. There are so many ways to work out – cardio machines, weight training, yoga, swimming, boot camps (I'd continue but – you're busy) that it's important to find the exercise you love. And then you'll make the time for it.
Three: Use your time wisely
New research comes out every year about how we're more time-poor. On super-hectic days, a shorter, higher-intensity workout (aim for pool speed vs distance, or ask your personal trainer for recommendations) will be achievable, and effective.
Four: Pre-plan
There are many, many sayings around the value of preparation. Because it's true. Make your own life easier by washing your workout kit ahead of time, and having it in your bag ready for when you need it.
Five: Something is better than nothing
On days when you're really rushed, pushing yourself to fit in a long class may make you feel even more rushed and frantic. But rather than skipping it altogether, do what you can. Even if it's as simple as swapping the elevator for the stairs throughout the day.
Six: Work towards something
Everyone's got milestones they want to feel great for. A wedding, a family reunion, a holiday, a fun run. Having a goal in mind will inspire you to keep that promise to yourself, even on the busiest days.
As you might be picking up from our previous blogs, it's about finding a way to make a workout.. work for you. Anyway, gotta rush - busy day ;).
To help you on your way to a year of health of fitness, we're giving away a free year's membership each week in January. Find out more below:
View membership prices